I hope it's alright for me to spam the FF&FA forums like this.
SO TIME FOR A NEW PS PAINTING!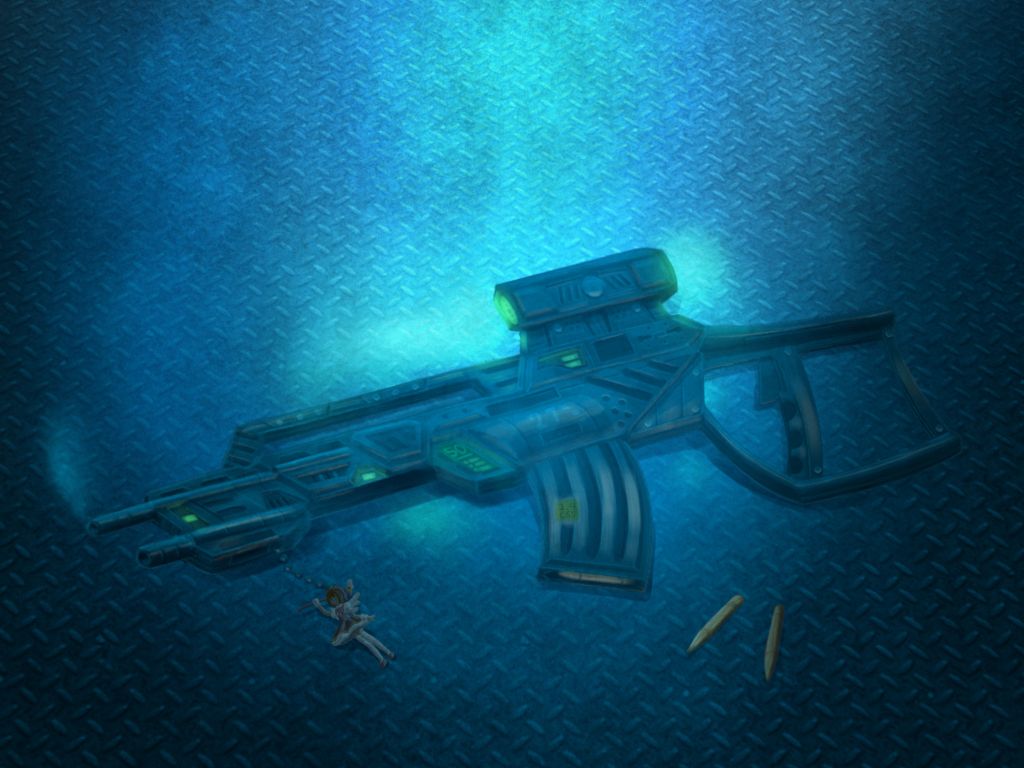 Description copied from elsewhere:
---
XARC-15 S "Shark"
---
The
XARC-15 S
is a reflex assault rifle used in Chibits Fortress. It is a standard issue amongst all Chibits footsoldiers. Known as the "Shark" or "Sark" in popular culture, this rifle is known to have won many wars for Chibits fortress. This modified version includes a more durable skeleton and casing for ease of maintenance as well as a slightly longer muzzle for housing long slender bullets that may come in specialized forms such as explosive or cyanide-infused rounds. The modifications allow the new rifle to be sustainable at longer distances with increased firepower, ammunition space, as well as accuracy. The XARC-15 S also houses the XM4G1 slug launcher attachment that uses high-velocity armor-piercing slugs that have explosive capabilities originally not seen in the older "Shark". The XARC-15 S comes with the MS-22 Aimpoint Scope for mid to long-range targeting.
As a Chibits-exclusive-only bonus, all soldiers offered this weapon also receive the weapon with a keychain. One may select amongst the three available choices: Cardcaptor Sakura, Yuki Nagato, or Mew Ichigo. Export versions of the XARC-15 S do not include this bonus.
---
XARC-15
---
The
original XARC-15
by Arsenal Valley Inc became a feared weapon for its strength in war as well as its widespread use around the Networld. Being one of the most common assault rifles, it has satisfactory marks for accuracy and firing rate. Its long slender muzzle lets bullets pack a lethal punch on any organic target.
--- Testimony and Witness Accounts ---
"That things a demon! I mean, you'd see tracers fly all over the place! When it hits something, smoke comes up! When the smoke clears, whatever that something was ain't there anymore!"

~~~Anonymous POW
"Hell, I love this gun. With CSS 1.4 ammunition that can bore holes through six-inches of hard steel, it's a bargain!"

~~~Pvt. Avery Miller, Chibits 35th Infantry
"Yeah, I've seen 'tis one in action. Whoever holds this gun is like one'a those gun-tottin' military shooter video game players! Don't get me wrong - my men got killed just as soon as their earlobes and shoelaces got beyond cover with this gun in t'enemies' hands!"

~~~Retired Militia General Ramon Waver, Former WIN32.X Armed Forces