Since downloading a voice pack from Dawn of War that was posted here by Waffnuffly, I found myself reading up on the whole story behind Warhammer 40k and found myself oddly drawn to it. So much so, that I took it upon myself to try and recreate some of the factions from the WH40K universe through a new skins pack for it.
I started with two factions from the Imperium of Mankind: The Shadow Wolves (rather easy), and the Space Sharks (trickier than expected).
SHADOW WOLVES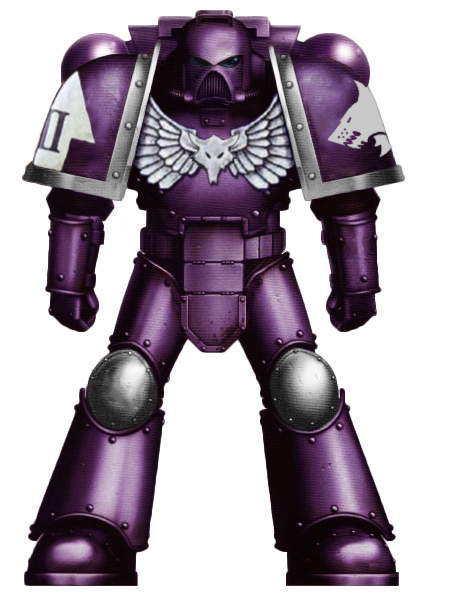 Canon Info: [spoiler]
http://warhammer40k.wikia.com/wiki/Shadow_Wolves
[/spoiler]
SPACE SHARKS (the camo variant)
Canon Info: [spoiler]
http://warhammer40k.wikia.com/wiki/Space_Sharks
[/spoiler]
MY RESULTS
I even managed to create talk textures, so when you or a bot says something while using either of the skins, a respective image will show displaying which of the two you are. The only thing is, I really hate figuring out how to make a new .int file in order to use a custom skin with this model (and I'm not 100% sure it can be done), so I'm replacing files from a stock SpaceMarine texture package with my custom ones. An effective work-around, but it would be nice if I didn't have to overwrite stock files...
This is yet to be finished. I have yet to make the red, blue and green skins (The purple guy is the default skin, while the gold one is, obviously, the gold team skin). I'm trying to find interesting factions to base these skins off of. I think I've found what the red team skin will be drawn from though: A chaos faction dubbed "Skull Takers."